Roll over image to zoom in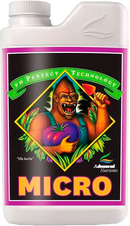 ---
Shipping costs may vary. We will contact you before shipping your products if shipping costs are different.
Description
Advanced Nutrients Micro is part of a three part base system. Using a high-quality micronutrient formula is your ticket to a rewarding garden. By combining Advanced Nutrients pH Perfect® Micro with pH Perfect Grow and pH Perfect Bloom, you're providing your plants what they need to give you a happier harvest day. It's guaranteed!
Payment & Security
Your payment information is processed securely. We do not store credit card details nor have access to your credit card information.