Roll over image to zoom in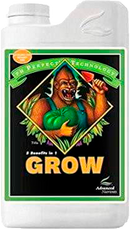 ---
Shipping costs may vary. We will contact you before shipping your products if shipping costs are different.
Description
When you use 3-part hydroponics base nutrients, you get reliable, flexible, concentrated nutrients that give your plants the essential elements they need. Mix Advanced Nutrients pH Perfect Grow with pH Perfect Bloom and pH Perfect Micro to provide nitrogen, phophorus and potassium (along with secondary and micronutrients that create nutrient healthy structure, vital metabolism, and productivity in your plants.
Payment & Security
Your payment information is processed securely. We do not store credit card details nor have access to your credit card information.