Roll over image to zoom in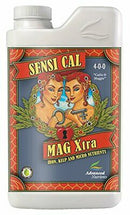 ---
Shipping costs may vary. We will contact you before shipping your products if shipping costs are different.
Description
Sensi Cal-Mag Xtra is different than classic Sensi Cal-Mag because of the improvements in micronutrients like iron, as well as 20 L-form amino acids to ensure the potential of every nutrient in Sensi Cal-Mag Xtra is performing at maximum potential. Every last detail has been accounted for to make this product as perfect as scientifically possible. Calcium, magnesium and iron.
Payment & Security
Your payment information is processed securely. We do not store credit card details nor have access to your credit card information.