Roll over image to zoom in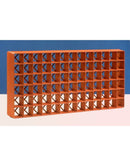 ---
Shipping costs may vary. We will contact you before shipping your products if shipping costs are different.
Description
Starter tray for start plugs, Grodan Mini-Blocks and Gro-Blocks. This 78 cell in this tray perfecfly fit 1.4 inch A-Ok Starter Plugs or round Macroplugs. The tray fits in a standard 10 x 20 flat tray.
Payment & Security
Your payment information is processed securely. We do not store credit card details nor have access to your credit card information.