Roll over image to zoom in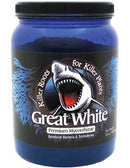 ---
Shipping costs may vary. We will contact you before shipping your products if shipping costs are different.
Description
Killer Roots – Killer Plants! Plant Success Great White Mycorrhizae contains carefully selected mycorrhizal fungi plus beneficial bacteria well suited to a variety of soils, climates and plants. In nature, these microorganisms thrive in and on plant roots and greatly enhance plant growth and vigor.
Payment & Security
Your payment information is processed securely. We do not store credit card details nor have access to your credit card information.