Roll over image to zoom in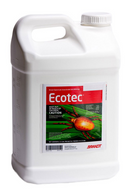 ---
Shipping costs may vary. We will contact you before shipping your products if shipping costs are different.
Description
BRANDT ECOTEC PLUS is a broad spectrum, contact insecticide/ miticide used to control aphids, thrips, whiteflies, mites, cabbage looper, armyworm and other pests on a wide range of crops. The unique dual-mode of action provides quick kill and control to all stages of insect development.
The Advantages of BRANDT ECOTEC PLUS
Zero REI or PHI. May be applied throughout the season up to day of harvest
OMRI Listed, NOP compliant, FIFRA exempt pesticide
Compatible with most conventional adjuvants, fertilizers and pesticides
Easy on beneficial insects
Payment & Security
Your payment information is processed securely. We do not store credit card details nor have access to your credit card information.