Roll over image to zoom in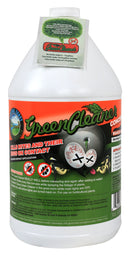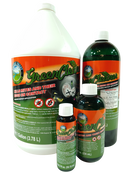 ---
Shipping costs may vary. We will contact you before shipping your products if shipping costs are different.
Description
Click + View more below for more information!
Qualifies for exemption under FIFRA section 25 (B) as a minimum risk pesticide.
Green Cleaner is an all-natural soybean-based pesticide that kills spider mites, broad mites, russet mites, aphids, thrips, and whiteflies as well as their eggs on contact. Green Cleaner will also wash powdery mildew right off the plant.
Green Cleaner can be used as a solution to dip tender new cuttings in, to prevent garden contamination when outsourcing plants starts, and Green Cleaner fits in well with all IPM programs
Green Cleaner spray will adhere to the target insect, larvae, and egg case. Its active ingredients then disrupt digestion and respiration. Green Cleaner also penetrates to dehydrate their entire body while suffocating them. There is no way an insect can become immune to suffocation or dehydration.
Green Cleaner was designed to dehydrate and suffocate when it comes into contact with a pest. Thoroughly saturate your infested plants with Green Cleaner to kill many types of insects and diseases on contact. Green Cleaner's unique formula does not stress the plant out and will not damage flowers, vegetables, or fruits as long as it is applied under proper lighting conditions.
Green Cleaner is natural and is safe for use around people, pets, soil, and food. With proper application, our product can be used up to the day of harvest.
Dries off quickly
Safe to apply daily and will not interfere with plant development.
Biodegradable.
Clean ingredients mean clean test results. Passes strict lab parts per billion testings.
Safe for food and medicinal plants.
Safe to apply on the day of harvest and as often as required throughout growth.
Approved for use on all food and feed crops.
Preventing spider mites in house plants
Best Spider mite killer
PBA Free or HDPE grade bottles.
California, Colorado, Oregon, Florida & I-502 Approved pesticide for use in the production of marijuana.
Takes Care Of
Spider Mites: Works on all types of mites, including red spider mites, two-spotted spider mites, and their eggs.
Broad Mites
Thrips
Earwigs
White Flies
Fungus Gnats
Russet Mites
Aphids
Pill Bug
Ants
Root-Knot Nematodes
Powdery Mildew: Our product melts spores on contact and changes the pH of the plant surface and washes off the powdery mildew already present.
Fungus: eliminates fungus on contact.
Leaf Rust
Blight
Mold: kills molds on contact, stopping their growth, and washes it off.
Botrytis (Gray Mold)
and more...
Payment & Security
Your payment information is processed securely. We do not store credit card details nor have access to your credit card information.