Roll over image to zoom in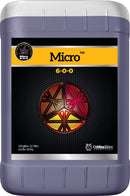 ---
Shipping costs may vary. We will contact you before shipping your products if shipping costs are different.
Description
Micro 6-0-0™ is one of three components that create the complete Cutting Edge Solutions® 3-Part Base family. Micro 6-0-0™ is the foundation for the 3-Part formula and is used at the same rate through the entire life cycle of your plants. Micro 6-0-0™ contains all of the micronutrients needed for peak health, along with the nitrogen and calcium foundation for the 3-Part Base formula.
Payment & Security
Your payment information is processed securely. We do not store credit card details nor have access to your credit card information.