Roll over image to zoom in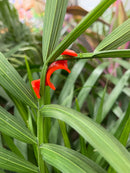 ---
Shipping costs may vary. We will contact you before shipping your products if shipping costs are different.
Description
Plants are prone to reaching for the light source and stretching. This can be annoying if you are growing in an indoor environment because they may come too close to the lights or ceiling space and burn. These are the perfect solution. They allow you to bend branches by hand and slip this trainer over it, re orienting them 90 degrees. These do not hurt or stress the plant when done correctly. Plants branching too far out? Use these to re-orient the plant to face inwards! Simply bend a branch by hand back and forth a couple times to make it easy to work with. Then slip these over. That's all!
Payment & Security
Your payment information is processed securely. We do not store credit card details nor have access to your credit card information.