Roll over image to zoom in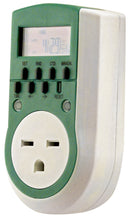 ---
Shipping costs may vary. We will contact you before shipping your products if shipping costs are different.
Description
Apollo 8 - Two Outlet Analog 120v Timer

This analog unit has 96 15 min trippers giving you a myriad of on off options. 

96 non-detachable 15 min trippers.
Two (2) outlets. 15 min intervals.
Heavy-duty construction.
Enclosure resists dust, rust and moisture.
Do not use with digital ballasts.
15 Amps maximum/120 V/60 Hz.
Apollo 9 - Two Outlet Digital 120v Timer
With two outlets and a 15 Amp capacity, Easy set up to run your pumps, fans, etc.
24 hr digital timer.
Two outlets and 15 Amp capacity.
Can be set to 1 min intervals and run 8 separate schedules per day.
Two outlets with 1 min intervals.
Battery backup feature saves settings if power goes out.
Enclosure resists dust, rust and moisture.
15 Amps maximum/120 V/60 Hz.
HINT: If not functioning properly, plug in for 5 min and press the reset button. This generally fixes any problem.
Apollo 11
 

Digital

 

240v Timer

One outlet, heavy duty construction. Daylight savings mode to accommodate time change. Runs lights, pumps, fans, etc.
One NEMA 6-15 240 volt power outlet
1 minute intervals up to 20 programs per day
Battery backup features saves settings in case of power failure
Plastic enclosure resists dust and moisture
Heavy duty construction
Run light, pump or fan
10 Amps/240 Volts/60 Hz.
Payment & Security
Your payment information is processed securely. We do not store credit card details nor have access to your credit card information.