Roll over image to zoom in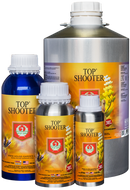 ---
Shipping costs may vary. We will contact you before shipping your products if shipping costs are different.
Description
House & Garden Top Shooter is a liquid version of Shooting Powder. Top Shooter is a ulta potent PK flowering booster and is able to increase yields up to 20%! This amazing bud expander is the absolute best in the field of flowering stimulators (but contains NO PGRs). It gives visible results and works brilliantly with all base nutrients. The liquid form provides an easy and precise application for all small and large growers.
House & Garden Top Shooter forces your plants into starting a new flowering cycle after the regular cycle has stopped, significantly increasing the fruit's total weight. The extra yield after applying this agent will surprise even the most seasoned grower. Top Shooter creates a new layer on top of the existing fruit! Output increases of up to 20% can be reached this way and are very common.
Top Shooter contains a proprietary carbonate form of phosphorus and potassium, that makes it both far more pH stable and bio-available than other yield enhancers. Top Shooter is the market leader in enhancing yields.
Triggers your plants into initiating a second cycle of new flower development.
Continuous cell division.
Foaming bloom expander.
Visible results in 2 days.
Builds flowers on flowers on flowers.
Outweighs the competition.
Top Shooter Dosage: 0.5-2ml/L
Payment & Security
Your payment information is processed securely. We do not store credit card details nor have access to your credit card information.