Roll over image to zoom in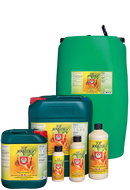 ---
Shipping costs may vary. We will contact you before shipping your products if shipping costs are different.
Description
Apply discount code at checkout: 5litertb
Discount code is for 5 Liters ONLY
House & Garden Top Booster has been precisely designed to alter the nutritional ratio of your feed according to plant demands. This encourages a more enthusiastic reproductive cycle (floral growth) from the plant. The PK aids in fruit set development, fruit bulking, stem and root expansion and uptake of other minerals.
Top Booster also incorporates a specific form of EddhaFe (Iron) as this reduces chlorosis in leaves and triggers the production of autumn hormones, namely ethylene, to promote additional floral development and to regulating the ripening of fruit.
Initiates flowering.
Stimulates flowering.
Improves plant respiration.
Better than straight pk13/14. with additional EDDHA-Fe Iron.
Larger fruits.
Dosage:1.5ml/L
Warning: Do not use at the same time as other PK based additives
Payment & Security
Your payment information is processed securely. We do not store credit card details nor have access to your credit card information.