Roll over image to zoom in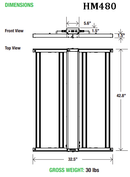 ---
Shipping costs may vary. We will contact you before shipping your products if shipping costs are different.
Description
A full-spectrum LED rack lighting solution designed for commercial indoor and greenhouse applications, enabling control over the plant cycle from the vegetative stage to the flowering stage. Indoor plants grow best under full-spectrum lights, which replicate the natural spectrum of the sun. The HM480 Series, with an increased lifespan over traditional grow light sources, cultivates healthier, happier plants. 7 year warranty. 
• Compatible with TrolMaster system+Adapter LMA-14
• Added one extension bar on each side to cover 4' x 4' or 4' x 5' grow tray
• Come with 120-277V AC output quick access outlet on the fixture
• Foldable design, easy installation
• Up to 30% more energy saving than traditional HID and HPS
• Optimized spectrum proven by growers for veg and flowering
• Superior delivered PPF and PAR exceeding 1000W HPS
• Scientifically engineered to maximize photosynthesis, growth, and yield
Payment & Security
Your payment information is processed securely. We do not store credit card details nor have access to your credit card information.