Roll over image to zoom in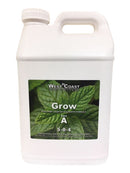 ---
Shipping costs may vary. We will contact you before shipping your products if shipping costs are different.
Description
Grow Part A is part of a two-part formula designed to promote growth in the vegetative phase. This two-part formula is made from high-purity minerals. It contains no dyes or additives.
Using Grow A and Grow B in combination will provide all the required nitrogen, phosphorus, potassium, calcium, magnesium and micronutrients. No additional nutrients or additives are needed.
This product is easy to use: Simply mix equal amounts of Grow Part A and Grow Part B.  Formulated for use in soil, coco, soilless media and hydroponics. 
Payment & Security
Your payment information is processed securely. We do not store credit card details nor have access to your credit card information.