Roll over image to zoom in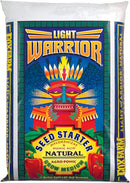 ---
Shipping costs may vary. We will contact you before shipping your products if shipping costs are different.
Description
Enhance root growth and encourage greater nutrient uptake by plants with FoxFarm Light Warrior soil. It's the perfect fast-draining, lightweight seed starter for your indoor/ outdoor gardens. Not just a grow medium… it's packed with beneficial microbes (mycorrhizae) to stimulate root growth, humic acid to promote seed germination and earthworm castings to help plants thrive.
Payment & Security
Your payment information is processed securely. We do not store credit card details nor have access to your credit card information.