Roll over image to zoom in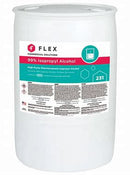 ---
Shipping costs may vary. We will contact you before shipping your products if shipping costs are different.
Description
Discount Code: XKPXXHD3FBB5
Multi-use, high purity isopropyl alcohol. U.S. Pharmacopoeia Grade (USPGrade) reliably-sourced. Contains 99.9% isopropyl alcohol and .01% water for rapid evaporation. For cleaning, industrial and manufacturing applications.
Payment & Security
Your payment information is processed securely. We do not store credit card details nor have access to your credit card information.