Roll over image to zoom in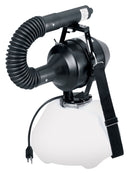 ---
Shipping costs may vary. We will contact you before shipping your products if shipping costs are different.
Description
FOG® Electric Atomizer Sprayer creates an ultra-low-volume mist for indoor/outdoor use. The mist outputs 22-46 microns particle sizes with an average droplet of 20 microns. Adjustable output of 1.5 - 14 gallons per hour. Includes large commercial coiled hose for directing ULV chemical mist that can spray 13.5 ft. Sprayer has a lightweight, 2-gallon translucent poly tank and carrying strap for portable use. Operates on 110V AC power.
Payment & Security
Your payment information is processed securely. We do not store credit card details nor have access to your credit card information.