Roll over image to zoom in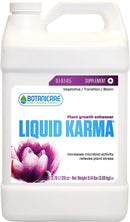 ---
Shipping costs may vary. We will contact you before shipping your products if shipping costs are different.
Description
When used in combination with your preferred plant food, Liquid Karma may enhance the availability of nutrients for plant uptake.
This dynamic supplement is one of the most versatile products in our line. Liquid Karma sparks vegetative growth during the early stages of plant life. Its low nitrogen, phosphorous and potassium content allows it to be used for plant starts, cuttings, seedlings and mother plants. Liquid Karma may aid with root development and nutrient uptake which allows for more vigorous foliage, fruit and bud sites. Used in foliar application Liquid Karma will further enhance growth.
Payment & Security
Your payment information is processed securely. We do not store credit card details nor have access to your credit card information.