Roll over image to zoom in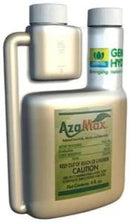 ---
Shipping costs may vary. We will contact you before shipping your products if shipping costs are different.
Description
AzaMax™ is a natural product with a broad spectrum of pest control. It contains Azadirachtin A & B as active ingredients and more than 100 limonoids. AzaMax™ does not use hard chemical solvents and fully uses food grade formulation ingredients. It is an antifeedant and insect growth regulator which controls pests through starvation and growth disruption. Effectively controls spider mites, thrips, fungus gnats, aphids, whiteflies, leaf miners, worms, beetles, leafhoppers, scales, mealy bugs, nematodes, and other soil borne pests. Mix a tablespoon per gallon.
Payment & Security
Your payment information is processed securely. We do not store credit card details nor have access to your credit card information.