Roll over image to zoom in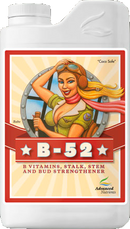 ---
Shipping costs may vary. We will contact you before shipping your products if shipping costs are different.
Description
This ever-popular formula contains Vitamin B1, humic acid, kelp and other ingredients so plants grow well and produce more – even in the demanding conditions of your high-intensity garden. This proprietary blend provides unique, powerful 100% guaranteed nutritional and vitamin support so your plants are always winners.
Payment & Security
Your payment information is processed securely. We do not store credit card details nor have access to your credit card information.