Roll over image to zoom in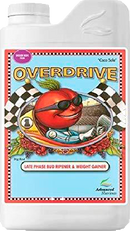 ---
Shipping costs may vary. We will contact you before shipping your products if shipping costs are different.
Description
Discount Code at Checkout: 4literod
Discount for 4 Liters only!
During the final weeks of bloom phase your plants need the ingredients in Overdrive to maintain flower maturation, flower growth, and overall vigor. Many growers neglect the last weeks of bloom phase, but now you can kick it into Overdrive for a strong finish and get bigger smiles at harvest time.
Payment & Security
Your payment information is processed securely. We do not store credit card details nor have access to your credit card information.