Roll over image to zoom in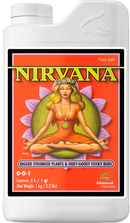 ---
Shipping costs may vary. We will contact you before shipping your products if shipping costs are different.
Description
The benefits keep on coming when you use Nirvana, because it contains whey protein that has been pre-digested using enzymes instead of the acid process that most manufacturers use. Enzymatically-hydrolyzed whey protein ensures that flower-boosting amino acids cysteine and tryptophan are preserved in the biologically-active "L" form.
Another of Nirvana's potent bud potentiator ingredients is bat guano that contains nitrogen, trace elements, amino acids, nucleic acids, proteins and minerals. Bat guano is rapidly-absorbed by plants, enhancing growth. Along with guano, Nirvana has a yeast component that contains 22 essential amino acids that build plant proteins, and it's also loaded with B vitamins. B vitamins are particularly useful for cloning, seedlings, transplanting, motherplants and gardens where plants are being pushed hard for production.
Nirvana contains a miracle substance called "azomite." When you read the list of substances that are contained in azomite, you'll see why it's valuable for your plants. These include calcium oxide, carbon, iron, hydrogen, silica, gold, magnesium, nitrogen, sulfur, magnesium oxide, antimony, chromium, cobalt, boron, molybdenum, copper, phosphorus pentoxide, manganese, indium, silver, zinc and dozens of others.
Another of Nirvana's underground benefit for your plants is humic acid. It comes from leonardite, which is among the richest veins of organic material in the earth. Humic acid helps your plants intake and utilize nutrients.
A related compound is fulvic acid, also derived from leonardite. Fulvic acid similarly transports nutrients into cells..
Payment & Security
Your payment information is processed securely. We do not store credit card details nor have access to your credit card information.