Roll over image to zoom in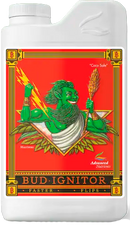 ---
Shipping costs may vary. We will contact you before shipping your products if shipping costs are different.
Description
Start Your Bloom Phase Providing Powerful Nutrition for Bigger, Better Flowers. Bud Ignitor is the ideal bud potentiator you use at the beginning of your bloom phase. Phosphorus is used by the plant to form RNA and DNA, and assists in the storage and transfer of energy, and flower maturation. Use Bud Ignitor to give your blooming plants a strong start for a very pleasing harvest. Your plants absolutely will maximize flowerings sites per stem when you provide specialized nutrition to your plants during early bloom phase so your plants ramp up internal production of metabolic triggers that result maximizing your budding sites. The result is that instead of only the typical 30-55% of your stem nodes becoming hosts for flowering sites within two weeks of flowering, 70-100% of your nodes show floral initiation!
Payment & Security
Your payment information is processed securely. We do not store credit card details nor have access to your credit card information.