Roll over image to zoom in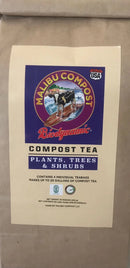 ---
Shipping costs may vary. We will contact you before shipping your products if shipping costs are different.
Description
Formerly named Bu's Brew Compost Tea. Same great organic product, in a different package. Malibu Compost's Tea for Plants, Trees and Shrubs helps create strong, healthy vigorous plants in an organic way, rather than using synthetics or conventional Ag by-products.
Simply drop a tea bag into water, stir and let sit overnight. Squeeze and stir the next morning and drench the soil of your plants and/or add to a spray bottle for a foliar spray. See all the benefits below of using Compost Tea for your healthy garden:
Supports your garden to create healthy soil.
Improves soil tilth and soil structure.
Improves plant growth.
Creates stronger, healthier plants.
Speeds up the breakdown of toxins.
Mitigates transplant shock.
Reduces water loss on your property.
Improves water retention.
Improves root depth.
Improves soil compaction.
Organic Biodynamic.
Non-GMO.
No conventional Ag by-products.
No green waste.
No pesticides.
No herbicides.
No growth hormones.
No sewage sludge.
Does not have cheap fillers, synthetics or GMO feedstocks.
Simple and easy to use.
Payment & Security
Your payment information is processed securely. We do not store credit card details nor have access to your credit card information.